Lufthansa has made changes to its Multiply Miles program that is a Miles&More feature with a partner Loylogic.
Multiply Miles now allows you to multiply the miles of any deposit made to your account for a set price and a maximum number of miles. If you max the most expensive package, you essentially pay 1.8 US cents per mile, including the 500 purchase bonus.
You can access this offer here.
Here's the update from Miles&More:
Today, we would like to introduce to you our new and improved Multiply Miles offer.1 This service, provided by our partner Loylogic, enables you to multiply your award miles by up to 300%.

You can now multiply award miles on flights as well as all the miles you earn in other sectors – e.g. when shopping, booking a hotel or rental car, taking out a newspaper subscription or making purchases with your Miles & More Credit Card. This means you get your chosen award even faster.
Incidentally, this enhancement also applies to existing Multiply Miles packages.

Book one of the three preconfigured packages (Lite, Classic or Pro), and earn up to 300% more award miles. Alternatively, you can put together a package of your choice.

Order Multiply Miles by 15.8.2021, and you'll benefit even more by getting 10% off all packages when you quote the code MULT10. You'll also get a one-off 500 award miles extra on every package.

We hope you have fun with your award miles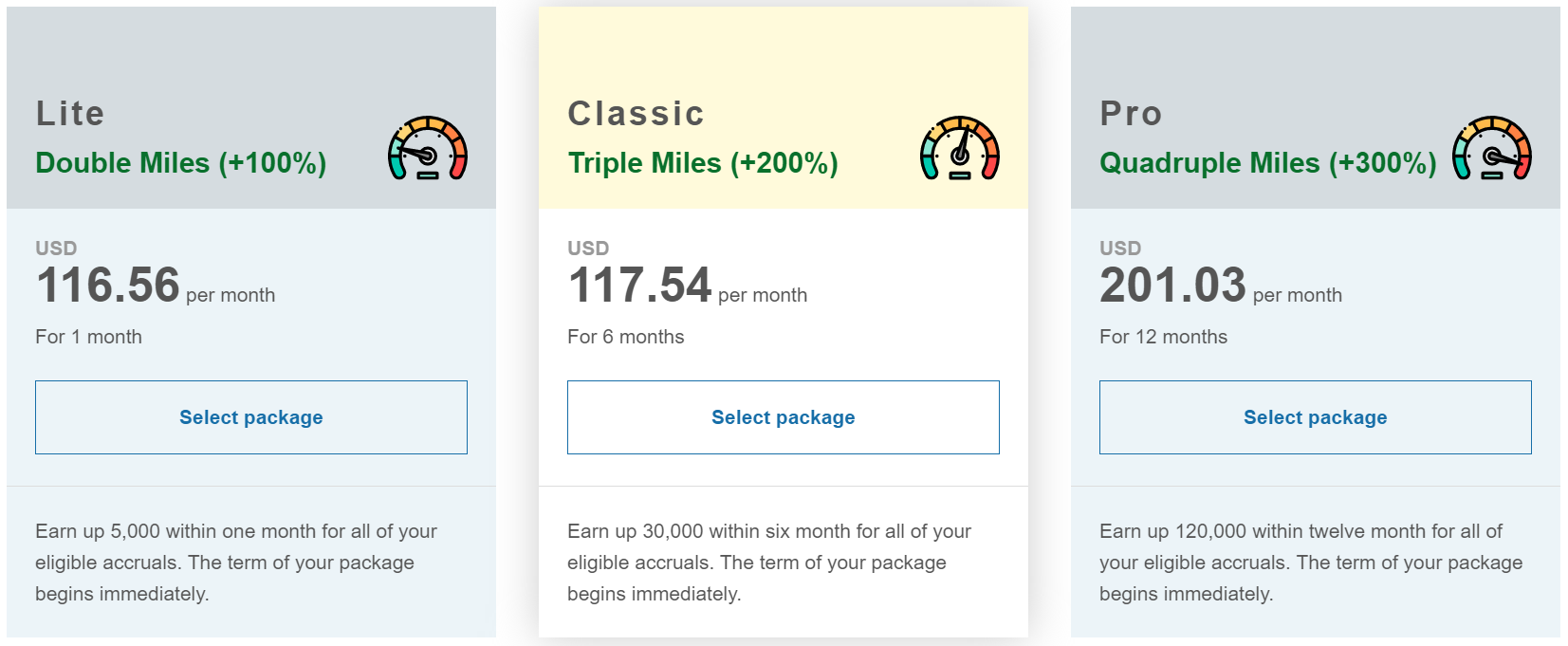 Price
You shouldn't buy a package unless you are sure that you can max the miles. Here the price of a mile ($2,171,17/120.500) is roughly 1.8 US cents each.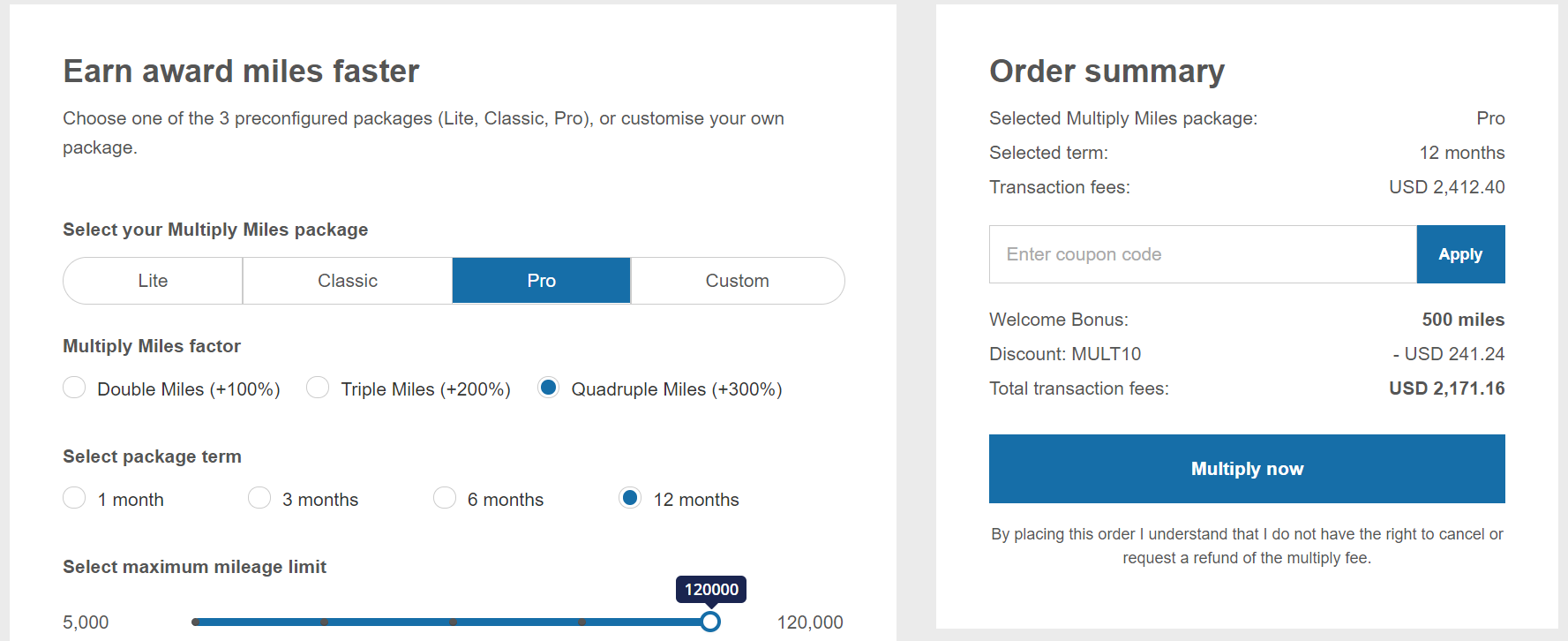 Conclusion
This reminds me of offers that LifeMiles has had in the past that allows members to "bonus" existing transactions, essentially buying more miles at a set price if you have no other avenues of acquiring miles at a reasonable price.
Interestingly, Lufthansa has decided to extend a similar offer to its Miles&More members. I guess that the goal is to extract extra revenue, read cash from the program membership.
Buying Miles&More miles through Multiply Miles can make sense if you have status with the airline and redeem mainly for first-class (better availability).
Here are the frequently asked questions:
1. What is Multiply Miles?

Multiply Miles is a service that enables you to increase the award miles you earn from Miles & More and partners. There are 4 different Multiple Miles packages: Lite, Classic, Pro and an individually customisable package.

2. What do "double miles", "triple miles" and "quadruple miles" mean?

If you choose to double your award miles with Multiply Miles (x2), you will receive the usual number of award miles as well as the same number of (multiplied) award miles on top. Example: you receive 1,000 regular award miles for the flight you have taken, then you are credited with a further 1,000 award miles via your Multiply Miles package (+100%). This gives you a total of 2,000 award miles, twice as many as you would receive without the Multiply Miles package. If you opt for triple miles, you will be credited with a further 2,000 award miles (+200%), so that a total of 3,000 award miles will be credited to your mileage account (= tripled). With quadruple miles, this means 3,000 additional award miles are credited (+300%), so that a total of 4,000 award miles are credited to your account (= quadrupled).

3. When will the additional award miles be credited to my Miles & More mileage account?

The additional award miles from Multiply Miles will be credited to your Miles & More mileage account along with your regular award miles once your flight is completed.

4. Can any Miles & More member purchase a Multiply Miles package?

Multiply Miles packages are available to all Miles & More members 18 years of age or older.

5. What is the limit on the number of additional award miles I can earn with Multiply Miles?

The maximum limit for the additional award miles that can be earned with Multiply Miles is 120,000 award miles per package term. You can individually select your desired limit on the order page between the levels 5,000, 10,000, 30,000, 60,000 and 120,000 award miles.

6. How often can I purchase Multiply Miles packages?

Multiply Miles packages can be purchased at any time. However, only one package can be active at any one time during a contract term. The respective terms of the packages may not overlap. After the expiry of a Multiply Miles package, you can immediately purchase another package. The new Multiply Miles package may differ from the old one, e.g. it may have a longer term or a higher maximum mileage limit.

7. What are the Multiply Miles packages available to me?

You have the choice between three different preconfigured packages (Lite, Classic and Pro). You can also put together your own individual package from the modules Multiply Miles factor (x2, x3, x4), maximum mileage limit (5,000, 10,000, 30,000, 60,000 and 120,000 miles) and term (1 month, 3 months, 6 months, 12 months) according to your needs.

8. Can I achieve a higher Miles & More status with Multiply Miles?

No, with Multiply Miles you only multiply the award miles for your completed flights. The amount of status miles remains unaffected.

9. What payment options are available?

The transaction fees for Multiply Miles can only be paid by credit card. MasterCard, Diners Club, American Express and Visa are accepted.

10. Which currencies can I use to pay the transaction fees?

For your convenience, you can choose your preferred currency using the currency selector at the top right of the page. The price displayed is then calculated at the current applicable currency exchange rate. All prices are calculated on a daily basis and depend on respective currency exchange rates (at www.xe.com). Currencies supported for Multiply Miles transactions: EUR, USD, GBP, CHF, CNY, INR, RUB, PLN and JPY.

11. Will there be any additional fees charged?

Additional card processing fees may be charged by your financial institution depending on your country and currency. Please contact your financial institution if you have any queries.

12. How can I check the status of my Multiply Miles package orders?

You can check the status of your orders in the "My Transactions" section on the Mileage Services by Loylogic homepage.

13. How long does it take to activate a purchased Multiply Miles package?

Your package will be activated immediately after a successful transaction/payment. If additional order authorisation is required, your package will be activated within 3 business days.

14. Can I request a refund for a package that has already been activated?

The transaction fees for an already activated package are not refundable. With the purchase, you waive your right of revocation. This will be pointed out before the purchase transaction.

15. Can I amend my Multiply Miles package services after purchase?

Unfortunately, we cannot change the benefits of a Multiply Miles package once it has been purchased. Of course, you can purchase another package with different features (factor, maximum mileage limit, term) after the end of the active package's term.

16. Do I need to cancel my Multiply Miles package at the end of a term?

No. All packages have a fixed term. After this term, the packages end automatically.

17. Who can I contact if I have questions about my transaction?

You will find a form via this link where you can submit queries about your Multiply Miles transaction. Please note that the form should only be completed in English, and you will only be responded to in English.

18. How long are the additional award miles I receive with my Multiply Miles package valid?
The additional miles you receive through a Multiply Miles package are subject to the Miles & More terms and conditions. If you do not have unlimited mileage protection, e.g. through a valid status or a Miles & More Credit Card, these miles are valid for 36 months and expire after 36 months at the end of the quarter. In such a case, you can extend your mileage validity for an additional 36 months via "Extend Miles", another product in the Mileage Services family.
Original article: Lufthansa Enhances Multiply Miles + Offers 10% Discount For Subscriptions Through August 15, 2021 - LoyaltyLobby